Robinson for DIY stores
Testimonial Belsack
Over the years Belsack has become a large timber yard and do-it-yourself shop in Halle. They have never regretted their decision to choose SDP nine years ago. The implementation of SDP Robinson do-IT has contributed to a simplified and more professional organisation of the company. The new electronic shelf labels were the icing on the cake in 2007. SDP had a brief interview with shop managers Damien and Christiane Belsack.
"I am really relieved that we are released from manual labelling!"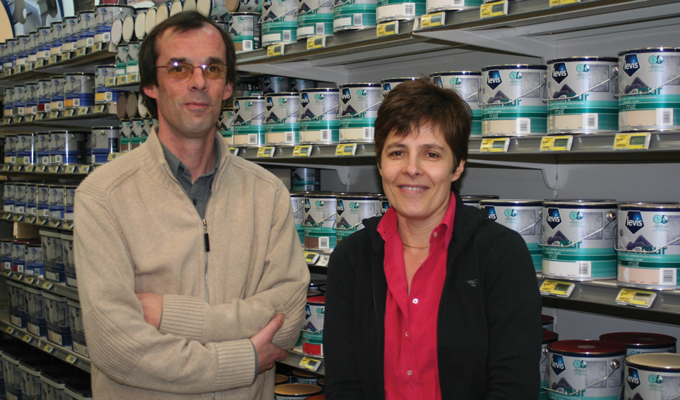 How it all started
Damien: "The family business has been established by our parents back in 1954. The shop employs 21 persons. We initially started out as timber yard, with a show room of barely 500 m². In 1970 we extended to do-it-yourself articles. Soon we enlarged the shop to a surface of 4,500 m² which totals up to a surface of 12,000 m² including workshop and warehouses. In 1989 we took over the business from our parents. Our customers are made up for 65% of consumers and for 35% of professionals: self-employed persons working in interior design, carpenters and industrial companies."
Collaboration with SDP
"At the end of 1998 we chose SDP as our IT partner for its global solution for software, hardware and network services. Can you imagine? We were still working in medieval conditions such as chalk and blackboard and calculators to make up receipts. The total sum was put in the cash register, but the customers left our shop without proper receipt. We also needed to know all article prices by heart. That's why we decided to take our chances with SDP and implement their specific retail software. At first we were a little uncertain about the migration, but everything went smooth. We even managed to migrate all data to the new system in one day: accountancy, stock management and front-office with scanning." Today SDP Robinson do-IT is the heart of the administration at Belsack. The software is running on some 20 back-offices and 3 front-offices. "We now have cash registers with article database and corresponding prices, we can print price changes on labels, make invoices, you name it. Ever since we have implemented SDP Robinson, we are working more efficiently and faster. The figures are as plain as day."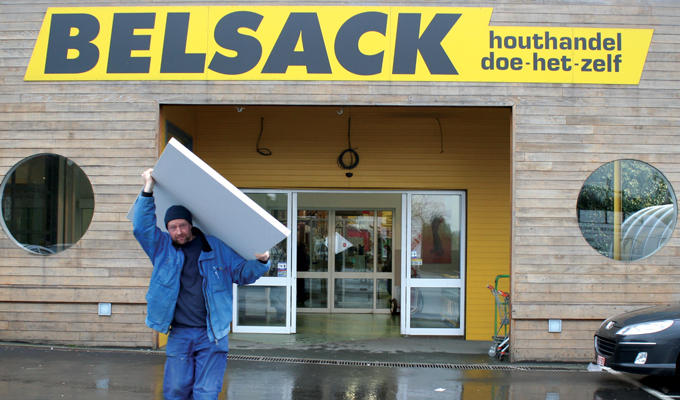 Electronic shelf labels
Christiane: "The only remaining disadvantage was that we needed an employee one day a week or even more to manually change the paper labels which was no sinecure. That way errors were often inevitable. We were unhappy about these errors and aimed for correct pricing, but often prices at the checkout differed from prices on the shelves. This was far from professional. It takes so much time and energy to display correct prices, but in reality prices are never correct for 100%. I am really relieved that we are released from manual labelling! We got acquainted with the newest generation electronic shelf labels of SDP at a trade fair in Kortrijk and we were immediately won over to this idea."
Damien: "Our trust in SDP was large enough to put this idea into practice. Because we know that SDP is really committed and looks before it leaps. Whenever we ask something from SDP, things are settled. We are never sent off empty-handed."
Christiane: "Our organisation has been simplified ever since. Without employing additional staff we are able to achieve more sales per year! For us, SDP is synonymous with simplification."
Satisfied
Christiane: "Surely, we have less to worry about because pricing is always correct. It feels right that the labels display the correct price or promotion at all times. Also our staff, that has always been closely associated with the company, was very enthusiastic about the new electronic shelf labels. We've had many positive reactions. And in addition the shop looks better now. We are happy to have taken the step and can advise electronic shelf labels to all of our colleagues!"
Do not hesitate to contact us for a non-binding demonstration in your store.